We love our volunteers, on-ship and on-shore!
Watch Leader: helps Watch Officers with all aspects of shipboard life including sail training, youth mentorship and chaperoning trainees (requires high school graduation and applicants should be at least age 17). Experience in Christian youth ministry is an asset.
Bosun's Mate: helps with ship maintenance such as painting, varnishing, rope work and is involved in all aspects of shipboard life including sail training and youth mentorship (usually is a former trainee with a SALTS intermediate certificate).
Assistant Cook: helps the Cook prepare meals for 30 - 40 people four times daily and is involved in all aspects of shipboard life including sail training and youth mentorship.
We will begin accepting online volunteer crew application for Summer 2018 in the fall of 2017. The Captain's Committee will begin reviewing applications and assigning positions in December 2017. Applications will continue to be accepted and reviewed on a monthly basis until all positions are filled.
The Captain's Committee reviews applications and fill positions based on the unique needs and priorities of each season and year and far more applications are received each year than the number of positions available. For this reason,
please be aware that even if you have served as a volunteer crew member in the past, we may not be able to offer you a position in the future.
We sincerely appreciate everyone who has served along side us and are always happy to hear from "VCrew" alumni!
---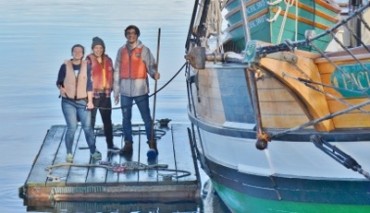 Shoreside Volunteers
We rely on the help of volunteers and appreciate
them very much! There are a wide variety of ways you can get involved.

Shoreside volunteer roles include:
Donated Boat Assistant: Cleaning and maintaining our fleet of 10-20 donated boats. This helps us sell boats quickly and for a higher price. Proceeds support our tall ship programs.
Tall Ship Cleaner: The ships often dock at Ship Point Wharf in the inner harbour between 2 and 3:30 pm on Fridays from March through June, September and October. Since arrival days and times vary, please call the SALTS office at 250.383.6811 after 10 am Friday to confirm the time and location. Please wear clothing you don't mind getting dirty or damaged as you may be using cleaning supplies that can damage clothing. No application is necessary for this role.
Workshop Assistant: Tasks, projects, and errands related to the organization, upkeep, and operation of the SALTS workshop and maintenance of our tall ships.
Shore-side Bosun's Mate:

Tasks, projects, and errands related to the maintenance of our Tall Ships when they are in port, which is generally weekdays from November through February and weekends (Friday afternoon through Sunday) from March through October. The majority of the work will involve paint and bright-work. Other work may include assisting the Shop Foreman with rigging, woodwork, plumbing, and electrical work.
How to Volunteer for Shoreside Positions
Review the job descriptions for these positions and decide which position(s) you wish to be involved in
For casual roles (tall ship cleaner and event volunteers, no application is necessary--just follow the instructions in the job description (the additional steps below will not apply)
For all other shoreside volunteer positions, print submit the shoreside application form to the SALTS office (or drop by to fill one out at our office). One of our volunteer supervisors will respond to you to discuss your application and suitability for the role(s)
Once accepted as a volunteer, arrange for an orientation with your supervisor; the supervisor will also provide ongoing coaching, performance feedback, and encouragement.