Summer 2018 Trip Dates and Routes
Explore the spectacular coast of British Columbia as crew of a traditional tall ship!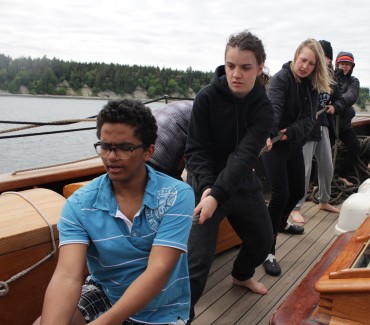 Discover amazing places, people and adventures aboard the 111' topsail schooner
Pacific Swift
or the 138' gaff rigged schooner
Pacific Grace
.
Formal sailing instruction is provided and no previous experience is necessary. Trips ashore to remote beaches and marine parks, swimming in freshwater lakes and waterfalls, games and exploring are just a few of the things that make up life aboard our tall ships.
Trip Dates and Routes
SALTS acknowledges the hospitality of many First Nations as we travel in their traditional territories.


Life Aboard Ship Life Aboard Ship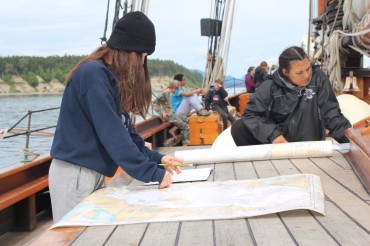 Each trainee aboard is assigned a bunk and a watch group. As a member of that watch, you will take part in all aspects of life aboard: raising and lowering sails, galley work, bosun's chores, steering the ship and anchor watch at night. In addition to being trained as crew aboard a large sailing vessel, trainees will be instructed
in the following skills:
chart work and navigation
rope work and knots
theory of sailing and rules of the road
history of sailing and small boat handling
While off watch, time is available for individual pastimes such as swimming, using the rope swing, wildlife viewing, and climbing the ship's rigging. Delicious homemade meals are prepared on board by the ship's cook. Most special dietary requests can be accommodated with advance notice. Trainees row ashore in our traditional dories for beach combing adventures, wide games, hiking, and exploring in marine parks along the way. Evening 'mug-up' includes lively games, singing, stories and tasty treats.
Travel Information
SALTS does
not
arrange travel or accommodation prior to or following trips but does provide
travel tips and resources
such as an email "Travel Loop" for those who would like to connect and share travel plans or carpool. Keep in mind that there will be 30-60 other SALTS participants heading to and from the same location so trainees seldom travel alone!
Please be aware that airline, bus and ferry schedules are subject to change without notice . Boarding and disembarking times at the northern locations have been adjusted to accommodate as many same day arrivals as possible.
How to Register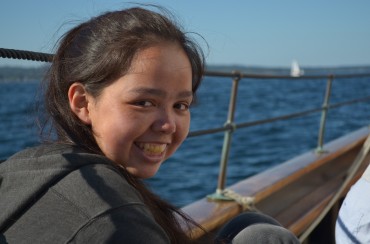 The first step of the registration process is the online TRIP REQUEST where you will be able to indicate up to 10 trip choices in order of preference (of 5 trips on each ship). Payment of the registration fee will be required following submission of the TRIP REQUEST.
You will receive an email with either a TRIP OFFER or a wait-list notification within 4 weeks. Trip offers will include a unique link to your Trip Payment Form and Trainee Profile Form.
Before registering, please review our
Physical and Mental Health Policy.
Summer 2018 Cost and Registration

People sometimes say there is one summer that changes you and you remember it for the rest of your life. SALTS made this summer that for me. This trip was the best experience of my life.
Summer 2015 Trainee