Haida Gwaii
Trip 3 - Pacific Swift - Port Hardy to Prince Rupert


Trip 4 - Pacific Grace - Queen Charlotte to Port Hardy
Trip Highlights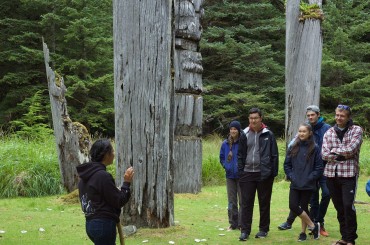 An incredibly beautiful and culturally exquisite archipelago on the North Coast of British Columbia, Haida Gwaii is home to the Haida people. Rich with history and natural beauty, visiting Gwaii Haanas National Park is a highlight and focus of our time spent here.
Lush greenery and generous new friends meet you during each shore excursion as well as a unique opportunity to tour through several of the Haida heritage sights exhibiting a deeply rooted history.
A taste of the offshore experience mixed with calm anchorages and coastal exploration.
As you stand watch or spend time on deck be sure to keep your eyes peeled as you may be rewarded with sightings of humpback and orca whales, sea lions, otters and a variety of coastal birds.
Click here to check out the ship's blog from a similar trip in 2016.
Route Area
Related Links
After ten days full of sailing, hiking, fishing, growing in an incredible community, and taking on the wild outdoors, I returned home much more confident than before.
Summer 2015 Trainee