Summer 2018 Cost & Registration
Trips are open to young people ages 13 - 25 and registrations must be submitted online. Trips often fill up very quickly, but a wait list is available.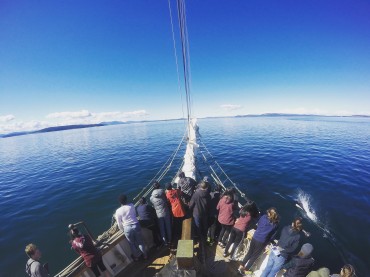 All summer trips are 10 days and include meals, sail training materials, park fees, and taxes.
Trip fees do not include travel to or from the boarding or disembarking location and trainees must make their own travel arrangements.

Find Summer 2018
Trip Routes and Dates Here

Cost
Registration Fee: $150.00
Payable with
all
registrations, with or without a bursary.
The registration fee is
Non-refundable
once a trip offer is sent.
Trip Fee : $1875.00 (less with a bursary!)
Prior to February 1st the trip fee for new registrations may be divided into three equal payments. After February 1st one half of the trip fee is due within 10 days of the trip offer and the final balance is due May 1st, 2018.
After April 1st all trip fees paid are non-refundable.
TOTAL FEES
$2025
Terms
Registration Fee
(all registrations)
$150
Due at time of initial registration Trip Request
Non-refundable once a trip has been offered
Trip Fee

$1875
First payment of $937 due within 10 days of trip offer
Final payment of $938 due May 1, 2018
Trip Fee
with a bursary
$150-1800
Bursary award notifications will include a payment schedule for the remaining trip fee after the award has been applied. The first payment will be due within 10 days of the bursary award notice.
Cancellation and Refund Policy
The registration fee is refundable in the following circumstances:
We are not able to offer a trip for any of the applicant's trip choices prior to the trip departure day.
The applicant withdraws their trip request or removes their name from our wait list (in writing) before we have sent a trip offer. Changes to trip choices and/or availability must be made in writing (email is fine) in order to avoid being offered a trip that is no longer suitable.
A bursary applicant is notified that we are not able to provide the minimum amount required (as indicated on their bursary application) and is offered the opportunity to withdraw their trip request.
Trip fees (less the registration fee) are refundable when cancellation is received in writing prior to April 1st, 2018.
After April 1st, trip fees are non-refundable.

To complete the online registration Trip Request form be prepared to provide:
Applicant's (Trainee's) contact information including a primary email address for important trip information
Trip choices in order of preference - up to 10 (all trips). Make sure you are aware of the boarding and disembarking locations (FROM & TO) and dates of each trip!

A credit card for payment of the registration fee, is required in order to process the trip request.
Before registering, please review our
Physical and Mental Health Policy
.
---
Bursaries
The SALTS bursary program
is funded by generous donors who want to see every young person have the opportunity to experience one of these life changing voyages. SALTS distributed over $110,000 of funding in 2017 with the majority awarded to summer trainees! You can request a bursary application when you fill out your online registration Trip Request and submit it once you receive a Trip Offer.
Bursary funds are awarded to applicants who demonstrate financial need and/or circumstances which put the trip fee beyond their family's reach. At SALTS we understand that even middle income families are stretched when it comes to providing worthwhile opportunities for their kids and "financial need" may apply to those who wouldn't otherwise ask for help.
The bursary committee will review applications and issue bursary awards on a monthly basis until funds are exhausted, so be sure to register and apply early! The amount awarded will be based on eligibility criteria, including demonstrated need (combined household income) and extenuating circumstances. Applicants must agree to perform at least one hour of volunteer service to a charitable organization for ever $100 of bursary funding they receive and send a thank you letter describing their SALTS trip experience to be shared with bursary donors following their trip.
SALTS wishes to thank the Dennis and Phyllis Washington Foundation for their generous support of our bursary program through a grant of $100,000 per year from 2013 to 2017!