New Schooner Project
The demand for SALTS' programs far exceeds our capacity, and we are eager to add another schooner to our fleet to enable us to take another 850 young people to sea each year – that's 42,500 more trainees over the next 50 years!
We have completed the preliminary design of a steel-hulled 116' Pilot Schooner and intend to begin construction as soon as the design is completed and regulatory approvals are gained. Funding is coming from private donors, foundations, and gifts-in-kind.
Project Description
For the first time in SALTS' history, we are setting out to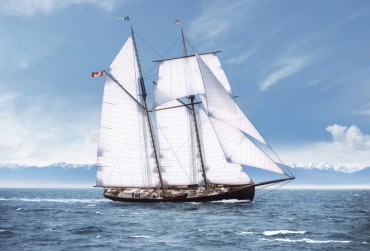 build a purpose-designed sail-training vessel. Previously, we built replicas of historical designs, modifying them to accommodate our program. We now have the experience to start from first principles and design a boat specifically tailored to our unique needs, aiming to set new standards in the sail-training industry.
In keeping with SALTS custom of sailing traditionally gaff-rigged sailing vessels, our starting point for design is a class of historical vessels called Pilot Schooners, boats that kept station offshore to guide incoming ships safely into harbour.
"In the days before GPS and radar, the worst nightmare of the sea captain often came when he was nearest to safety. Running in from the ocean in thick weather on a dark night, reduced to dead reckoning and perhaps having had no sight of sun or stars for days, his situation was desperate. Captain after captain pressed on with his position uncertain, under the sort of stress today's navigator need never know, until, ahead in the darkness, he saw a blue flare burning from the pilot boat. Soon the ladder would go over the side to welcome the man the crew wanted to see more than any living soul: the pilot."
Over the years, original pilot boats have been used for sail training, most notably by Irving Johnson, who circumnavigated the globe seven times in a North Sea Pilot Schooner with trainees like our own.
Design Objectives

From this starting point and after rigorous analysis of our own and other boats, we developed the preliminary design of a vessel similar in length to our schooner the Pacific Grace, and rigged as a square topsail schooner like the Pacific Swift. Principal design goals include:
Custom-build the vessel to support the needs of both our offshore and coastal programs.
Significantly exceed safety requirements, particularly in terms of deck-safety, stability, and sea keeping.
Refine the layout of accommodation and ship-management spaces, and significantly improve storage.
Maximize the longevity of the ship through good design and construction practices.
Background Experience and the Project Team

SALTS' shipbuilding experience includes the comprehensive restoration of our original schooner in 1980, and three new construction projects completed in 1985, 1986, and 2001. The ongoing maintenance of our vessels keeps our skills in active use.
The project team is being led by Tony Anderson, chief shipwright and master of the Pacific Grace, and Stephen Duff, principal design consultant and professor at the University of Oregon. We have assembled an international team of naval architects, academic partners, and professional consultants. We have tested models of the hull and rig at some of the best facilities in the world with input from world renowned experts.
Timeline and Location
We will commence construction as soon as our design and pre-construction engineering is completed and has been approved by Transport Canada (with the assistance of a classification society). A bid package will be prepared so that shipyards can bid on the construction of the steel hull. A separate contractor selection process will take place regarding the fit-out of the hull and rig.
How This Ship Will Differ from our Existing Vessels
Over the course of our history, we have incrementally improved the design of our ships. Now, in building a purpose-designed schooner, we are taking a large step forward. Compared with our most recent vessel, the new boat will have:
A steel hull
Significantly increased stability and self-righting capability
Increased deck safety and protection, with higher bulwarks and the prioritized layout of emergency equipment
Lighter spars and more redundancy in the rigging, to further increase safety
Square topsail rig, safer and better suited to offshore sailing
Increased internal volume, more usable deck space, and improved circulation and emergency exit routes below
Ship management station separated from crew quarters to increase safety
Separate compartment for heads and wet gear
Larger aft cabin with more meeting space and improved crew quarters
Significantly improved ship-wide storage systems
For more information or to discuss making a major gift to this project, please contact David Eggert or Loren Hagerty at 250.383.6811 or via email by clicking
HERE
.
Drawings and Details
Project Case Statement--Start here!
(References to a wooden hull are not current as the hull will be steel)