Make a Donation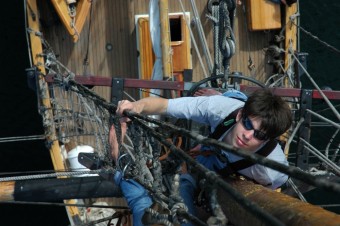 We are a registered charity in Canada and we have tax exempt (FORGN) status in the USA. A charitable tax receipt will be provided for income tax purposes. SALTS is currently seeking donations to help fund these areas:
1.
Where Needed Most:
When you make a donation to a charity without
designating it for a specific use, the charity's leaders are able to use the gift where needed most. Depending on our needs, we may allocate un-designated donations towards bursaries, ship upgrades, facilities capital improvements, our new schooner project, or ensuring an adequate emergency fund is in place for unexpected ship repairs or expenses. This kind of gift gives the charity's leadership the most flexibility and ensures the gift goes to the most important and urgent financial priorities.
2.
Annual ship maintenance and upgrades
: $280,000 is needed annually to maintain our tall ships
Pacific Grace and Pacific Swift
. These ships are the platform for our mentorship of young people, and caring for them enables us to operate them safely and sustainably.
Gift Designation Policy:
Our spending is limited to Board approved programs and purchases in keeping with our annual budget. Gifts designated toward an approved program will be used as designated with the understanding that when a given need has been met, gifts will be used where needed most. Our finances are audited annually by Hayes Stewart Little and Company.
How to Give

For more information on giving to SALTS please feel free to contact
David Eggert by phone 250-383-6811 or toll free 1-888.383.6811
or via email by clicking HERE
The amazing experience that is a tall ship voyage with SALTS came not only in the 10-day voyage itself, but in the people I spent it with. I came for the wildlife and waterfalls. I will come back for the people I experienced them with.
Summer 2014 Trainee