Welcome Aboard
Each year, we mentor 1700 young people from all walks of life as they learn to sail a tall ship with SALTS! We provide "training, by the sea, for life!"
Click here to register for Summer 2016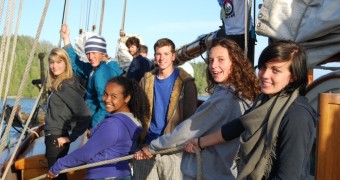 School or youth groups
participate in four or five-day voyages to the Gulf Islands each spring and fall. Individual young people join in
summer voyages
along the west coast of British Columbia. Past offshore voyages have traveled to the South Pacific, Far East, Australia, and Europe.
Bursaries
are available for those who cannot afford the full program cost. We also partner with numerous other community organizations to provide bursaries to young people from challenging life situations (cognitive disabilities, at-risk, cancer recovery, recent immigrants, etc).
Our mission is to encourage the spiritual, relational, and physical development of young people through sail training, shipboard life, and associated activities in a Christian environment. We welcome young people (age 13-25) from all walks of life as participants in our programs.